The new church of San Leopoldo Mandic built with modern construction systems
In recent years, one of the projects in which the MTR® System has been used is the construction of the new church of San Leopoldo Mandicin Massafra, in a rapidly expanding urban area.
The new place of worship, measuring approximately 1200 square metres, includes the weekday chapel in which the tabernacle is located, the chapel of Reconciliation and the sacristy, which unites the modern building with the existing parish.
"The objective difficulties of constructing a large liturgical hall, and thus perfectly building what the architects had planned, led to the choice of a system that was monolithic but at the same time proportionate to the liturgical forms involved. I became aware of the Metal.Ri company through discussions with other colleagues who had tackled and studied alternative solutions to the classic reinforced concrete frames for the construction of buildings with large spans and structural elegance with the help of the MTR® System".
The MTR® System represented a valid alternative to traditional building systems, in order to respond to the main structural requirement of the project, i.e. to cover large spans and create a single environment without the presence of supports inside (as can be seen from the first architectural renderings).
The roof provided for the positioning of MTR® A beams of great length, reaching almost 22 metres. With the MTR® A solution, totally self-supporting with the function of reinforcement and formwork in a single element, the main beam carries other secondary MTR® A beams: a first beam 21.5 metres long and 2 metres high supporting three beams 20 metres long and 1.5 metres high each.
It was possible to create a grid of beams capable of supporting the slabs of the nave without the need for additional pillars, despite the large space, eliminating any kind of vertical constraint.
Both economic and structural advantages were immediately evident throughout the construction period on site. The MTR® beams were erected in just 3 days, a very short time considering the structural complexity of the building, allowing the entire structure to be completed in one year. The ease of installation of MTR® beams has led to speed of execution and consequently lower construction costs.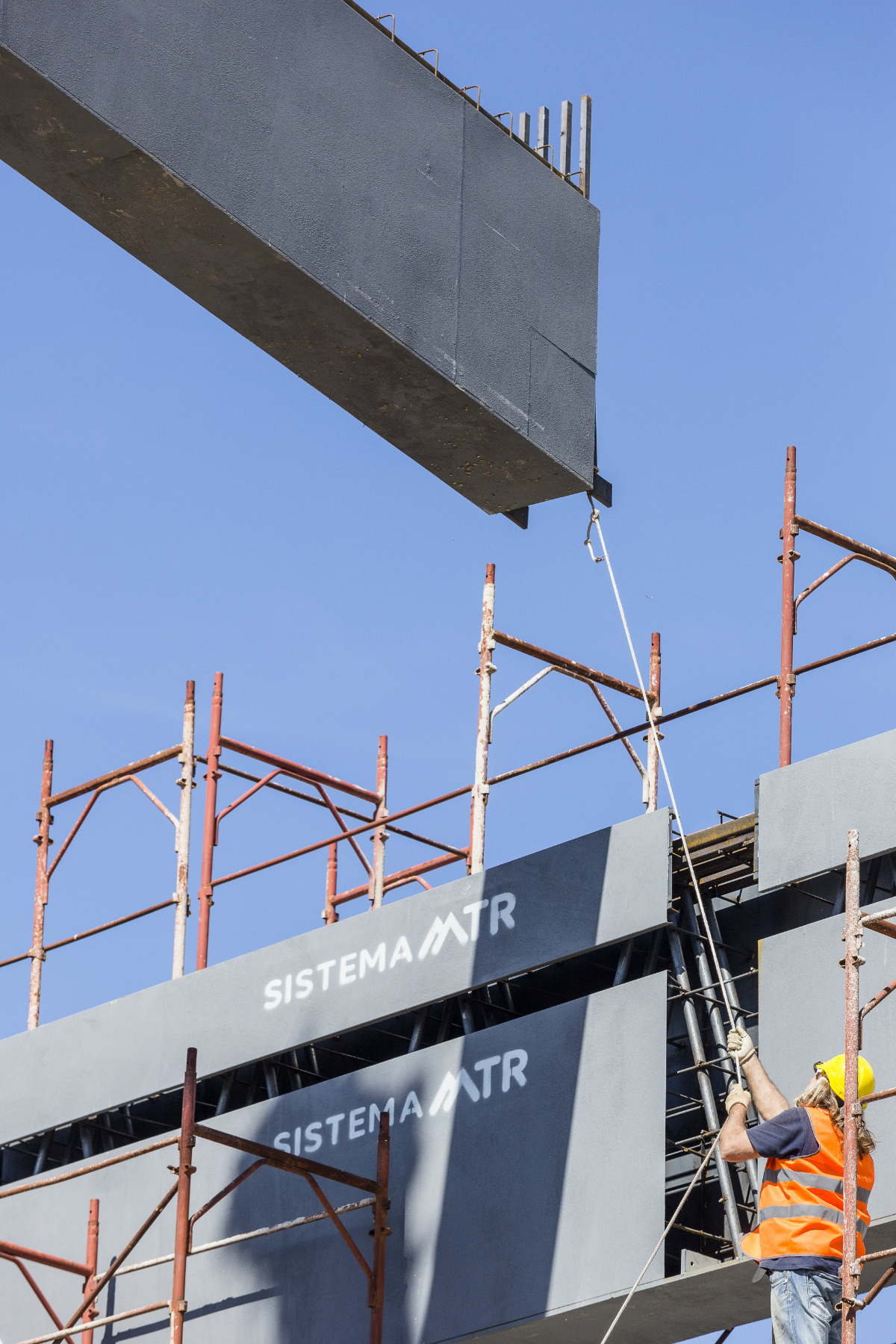 The project is the work of architect Giuseppe Danza, engineer Giovanni Leuzzi and Giuseppe Mappa, assisted by MTR® designer Gianluca Sciancalepore for the structural calculations. The construction company is Magazzile Rocco Antonio S.r.l.
All players in the supply chain who considered the MTR® System an efficient and safe solution.
"The advantage of using the MTR® System is double. Both at the structural level and at the level of organisation and site management, as well as the speed of assembly and implementation of structures in general.
I am satisfied with the technical support I have received from the Metal.Ri designers and I am using the same system for new projects."